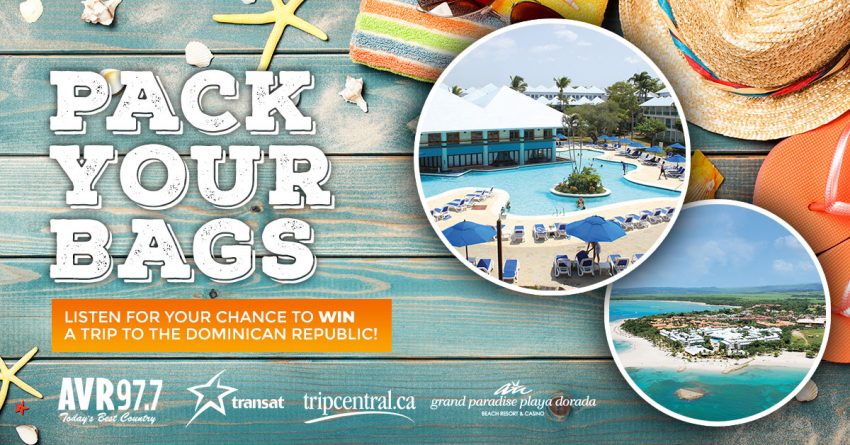 Pack Your Bags!
Listen in with Brian Symonds weekday mornings on AVR to play Pack Your Bags, and a chance to win a trip to the Dominican Republic!
Here's how it works:
Listen with Brian weekday mornings starting Monday January 13th through Friday February 7th 2020 on AVR. Each day, Brian will give you a word – an item for your suitcase as we 'Pack Your Bags'! Take that item/word the same day and visit one of the tripcentral.ca offices in Wolfville (10 Gaspereau Ave.) OR Greenwood (963 Central Ave. – Greenwood Mall) and fill out a ballot (maximum one ballot per day per location) for a chance to win the grand prize, a trip for two to the Grand Paradise Playa Dorada, Puerto Plata, Dominican Republic, courtesy of Amhsa Hotels & Resorts, Transit, and tripcentral.ca! On Saturday, February 8th, 2020, SOMEONE will win that trip, via a random draw live from tripcentral.ca's Greenwood location!
*As an added BONUS, there will be a suitcase item each Saturday too (Jan 18, & 25, and Feb 1). You can play Saturday's with the item/word at tripcentral.ca's Greenwood location ONLY*
---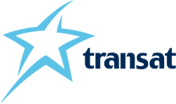 Stay up to date on the latest news, travel offers, discounts prices, contests and more. Click here
---

Our weekly emails will inform you of deals, cheap flights, contests and hot promotions not to be missed! Click here
---
Pack Yours Bags Rules & Regulation:
1.Contest can be played starting Monday January 13th, through Friday February 7th 2020, each day Monday to Saturday. There IS no contest occasion on Sundays. Each day, the morning show announcer will give a word – an item for your suitcase. You take the daily word to tripcentral.ca Wolfville or Greenwood location & fill out a ballot with the word – that's your entry for the day. Saturday contest occasions can only be played at tripcentral Greenwood, as the Wolfville location is closed on Saturdays. Contest will close at 4pm Friday, February 7th, 2010 at tripcentral.ca Wolfville & Greenwood. As a BONUS, you can enter the contest on Saturday February 8th, 2020 in person at tripcentral.ca's Greenwood Mall office only. One ballot only that day per person, no word will be required. That portion of the contest closes at 1:30pm Saturday February 8th, 2020.
2.The winner will be chosen by random draw.
3.MBS Radio will not be held responsible for late entries, or any print or administrative error of any kind in connection with this contest.
4.You acknowledge that MBS Radio and tripcentral.ca have the right to reproduce, publicize and broadcast your name, address or voice.
5.Grand Prize consists of a trip for 2 from Halifax to Grand Paradise Playa Dorada, Puerto Plata, Dominican Republic, departure dates TBD, between February 17, and April 27, 2020. We will accommodate your wishes based on availability. No extensions will be allowed.
6. Winner must make reservations with tripcentral.ca by February 24th, 2020.
7.The trip must be accepted as awarded, no cash value. All travel must be completed by April 27, 2020. Winner must have the appropriate documentation to travel to the Dominican Republic and a Canadian Passport to return to Canada.
8.Travel/Health Insurance is the responsibility of the travelers. Highly recommended.
9.Sponsors and AVR/MBS Radio will not be responsible for additional costs or inconveniences related to air travel above and beyond those covered by the airline.
10.Travelers are responsible to acquire proper travel documentation as required by airlines.
11.Travel arrangements will be made through tripcentral.ca. Some restrictions may apply. Any deviations will be at the cost of the traveler.
12.Winner must be 19 years of age or older.
13.All promotional trips provided by MBS and tripcentral.ca are non-transferable, have no cash value, and are delivered to the winner(s) as presented.
14.All taxes are nonrefundable and are the responsibility of the winner, approximately $450.00 per person, paid upon establishment of the travel dates.
15.tripcentral.ca reserves the right to substitute a comparable hotel/service in the event of unforeseeable unavailability.
16.Contest is open to everyone 19+ with the exception of employees and immediate family of participating sponsors, including AVR/Magic 94.9. Contestants are eligible to win a prize every 30 days from AVR. In the case of the Bag Your Bags contest, contestants who have won a prize with a value of less than $500 less than 30 days ago are STILL eligible to enter and potentially win this contest. There is a similar contest running on Magic 94.9, you are entitled to play BOTH contests, however, you would not be entitled to win both contests.
It is the responsibility of the entrant to fully understand and agree to the rules and regulations.