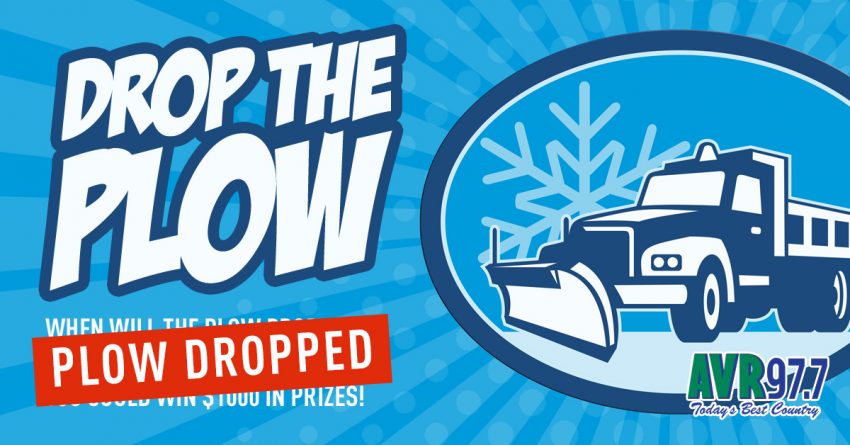 Drop The Plow 2023
Fill out the online form, mail, or drop off your guess when you think the AVR Snow Plow truck driven by JM MacDonald Construction will "hit the hill" at our AVR studio at 29 Oakdene Avenue in Kentville for the first time this winter season!
The closest guess following the plow drop will win a Christmas Stocking worth over one thousand dollars that is filled with:
$300 in home heating oil from Sullivan Fuels;
$250 dollar gift certificate from Bruce Nissan
$250 dollar gift certificate from Fraser's Pro Home Centres
$250 gift certificate toward winter passenger tires from Walker Automotive Services
plus other great gifts from AVR
PLEASE READ AND UNDERSTAND THE ENTRY RULES, SO YOUR ENTRY ISN'T DISQUALIFIED.
DROP THE PLOW 2023 RULES & REGULATIONS:
Listeners must submit in their guess the day and exact time, including hours, minutes, and seconds. The lucky listener whose guess following the plow drop that is the closest will win the prize as described. Prizes must be accepted as awarded, no cash value. Home heating oil will only be delivered within the regular distribution area of Sullivan Fuels, may be gifted to a friend or relative.
– NEW THIS YEAR. If the plow has not been dropped by 8am December 20th the winner will be randomly chosen from all the valid entries received before 8am December 19th, this include all the past entries that would not have won. The last valid time that may be entered for the plow to drop would be 7:59am and 59 seconds on December 20th, done so 24 hours in advance.
– When the plow drops, will be determined by JM MacDonald Construction based on when they deem it necessary to do so.
– Guesses submitted must be at least 24 hours into the future.
– One guess per IP address per day. Basically one guess per household per day.
– Cannot guess multiple times for the same date.
– Each guess must include a specific day, specific time, down to the second.
*Please note that it's in 24 hour time, no AM or PM required.
– The person with the closest time following the plow dropping will be the winner
(example: if someone guessed 8:58a.m. and someone else guessed 9:02a.m., and the plow dropped at 9:00a.m., the person who guessed 9:02a.m. would be the winner).
– In case of a tie, the entry that was received first will be the winner.
– You must be 19 or older to play this contest.
– Regular general contest rules apply as well as employees and immediate family members of this station, the sponsor(s), and the plow company may NOT enter.
– Station management will be on hand to officially log the time the plow drops and the decision of the management is final.
– Please be sure to include your first and last name, contact number, and email address in your submission.
– If contest rules are not followed your entry be disqualified from the contest.