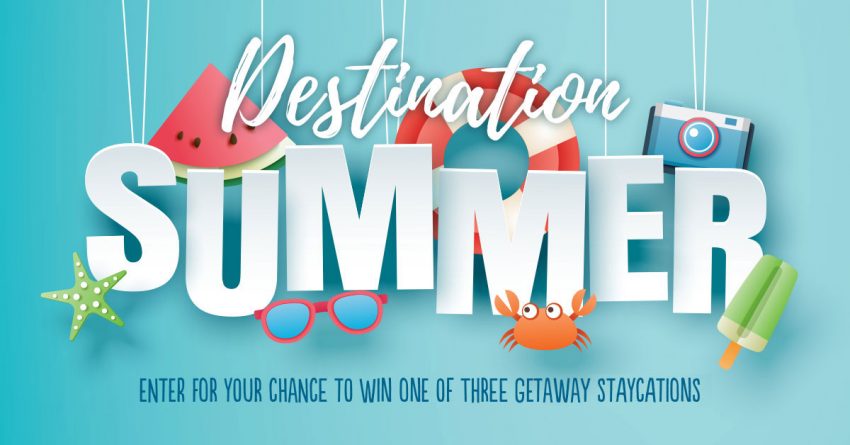 Destination Summer
This summer, we're sticking close to home, and becoming 'tourists in our own towns'. That's okay, Western Nova Scotia has a lot to offer! Introducing Destination Summer…a chance to win one of three staycation getaways! Win a one night's stay at Milford House in Annapolis Royal, a one night's stay at Brier Island Lodge; with a whale watching trip from Mariner Cruises in Freeport, or a two-night stay at the Old Orchard Inn, Greenwich! We'll be giving away three trips, to three lucky listeners; July 14th through 16th! Check out all the rules & regulations below, so you know how to play along!
DESTINATION SUMMER CONTEST RULES & REGULATIONS
1. There are 3 different ways to enter, making things accessible to more people!
Scan the QR code on the poster, it takes you to the AVR or Magic website to fill out a ballot.
Visit www.avrnetwork.com, or www.magic949.ca and fill out a ballot
Visit a participating sponsor, fill out a ballot and deposit in ballot box at participating sponsor location. Maximum 2 entries per entry method, any more will be disqualified.
2. Contest closes end of business day on Friday, July 9th, 2021.
3. AVR, Magic 949, CKDY, and supporting sponsors will not be held responsible for late, lost, illegible or destroyed entries, or any print or administrative error of any kind in connection with this contest.
4. You acknowledge that AVR, Magic 949, & CKDY has the right to reproduce, publicize and broadcast your name, address, voice, and your picture.
5. Grand prize draws are scheduled to take place on Wednesday July 14th, Thursday July 15th, and Friday July 16th, 2021. Winners will be announced during the AVR & Magic 949 Morning Shows. Following the draw, winners will be notified by phone.
6. Prizes must be accepted as is, prizes may not be exchanged or redeemed for cash. Prizes may not be publicly resold.
7. There are THREE grand prizes:
a. A one night stay at Milford House; 5296 Nova Scotia Trunk 8, Annapolis Royal. The one-night stay includes dinner & breakfast, based on double occupancy, rate 5 cabin. Holiday weekends will be blackout dates, valid until mid-October 2021, subject to availability. The winner will get more details from the Milford House reservation desk.
b. A one night stay at the Brier Island Lodge; 557 Water St, Westport (valid until October 15, 2022) as well as a whale watching trip for two from Mariner Cruises; 137 2 St, Freeport. (no expiration)
c. A two night's accommodation (for consecutive nights) at the Old Orchard Inn & Spa; 153 Greenwich Rd S, Wolfville. The two-night stay includes breakfast each morning, and one dinner voucher valued at $80.00 (no cash surrender value). Valid until November 30, 2021.
8. The Destination Summer promotion is open to everyone 19 or older, with the exception of employees and immediate family of AVR, Magic 949, CKDY, and associated partners and supporting sponsors.
9. AVR, Magic, CKDY (AKA MBS Radio) is not responsible in anyway for the experience the winner has participating in the prizes of this contest.
10. As with any vacation prize there will be incidental / personal costs to enjoy any of these prizes.
11. We have a contest rule; you can only win every 30 days. We are making an amendment to this rule; you can win another station contest (of a lesser value) and still win one of the Destination Summer getaways. You cannot however, win more than one of the Destination Summer prizes.
NO PURCHASE IS NECESSARY.
Ballot Locations:
AVR Studios – Kentville
Brier Island Lodge – Freeport (June-July)
Groundhog Geothermal & Heat Pump Ltd. – Newport
Halls Harbour Lobster Pound – Halls Harbour
Happy Harry's – New Minas
Kentville Toyota – Kentville
Kings Honda – Kentville
Mariner Cruises – Freeport (June-July)
Milford House – Annapolis Royal (June-July)
Old Orchard Inn – Greenwich
Parsons Motors – Wilmot
Parsons RV Centre – Middleton
Scotia Gold Country Store – Coldbrook
Scotian Gold Brooklyn Feed Mill – Newport
ServiceMaster of the Valley – Coldbrook