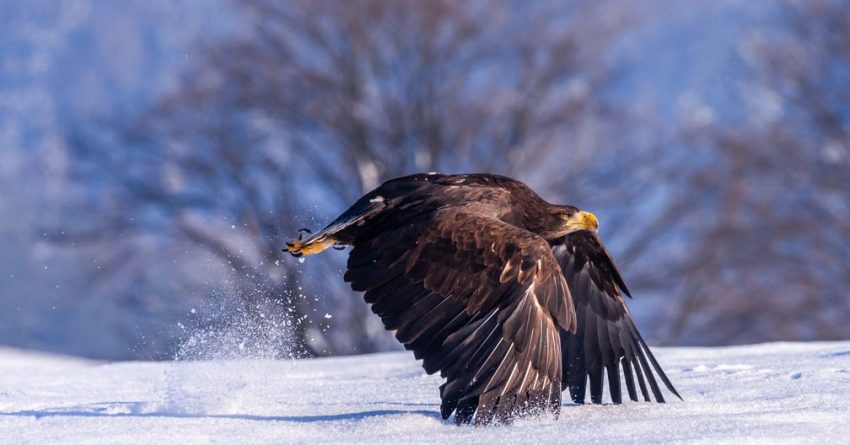 Sheffield Mills Eagle Watch 2020 – Weekend #2
This weekend is weekend #2 of the 29th annual Eagle Watch in Sheffield Mills! Things get started each day with a Pancake Breakfast served from 8:00am until 12:30pm. It's $9 for adults, $4 for children under 12.
The pancakes are made from scratch with ingredients from Eos Natural Foods made with Nova Scotia eggs, paired with Huntley's Village Meat Market sausage, and topped with your choice of Oxford blueberry sauce and/or Warren Family maple syrup. (Gluten-free pancakes are available.) Wash it down with Great Valley apple juice, Suprima Farms apple cider ​or a hot beverage from JustUs! Coffee Roasters.
Local musicians will be serenading the crowd daily!  Crafts for children will be happening on the second floor courtesy of Ross Creek Centre for the Arts.  Local art will be available for purchase from Deep Hollow Print, David Elliot Photography and the Blomidon Naturalist Society.​
The Eagles are fed daily at 8:30 & 10:30am.
Please remember eagles are wild animals and no one can predict when they will feed.
​Please keep dogs in your vehicles, children behind the barriers, and stay out of the woods to avoid disturbing the birds.  
NEW THIS YEAR! SHUTTLE SERVICE FROM THE CANNING FIRE HALL AT 15 MINUTE INTERVALS
$2/per passenger – SHUTTLE HOURS ARE 8AM UNTIL 1PM SATURDAY
DUE TO THE FORECAST FOR POSSIBLE SIGNIFICANT SNOWFALL INTO SUNDAY, SHUTTLE SERVICE FOR SUNDAY HAS BEEN CANCELLED
Eagle watching takes place on the corner of Middle Dyke and Bains Roads. Please drive slowly and be mindful of pedestrians.  The shoulder can be closer than it appears when the roads are plowed, so please park with caution and avoid a trip to the ditch!
This weekends entertainment lineup:
Saturday, February 1, 2020
9:00am-10:00am – Ahrun Havercroft
10:30am-11:30am – Zak Miller
Sunday, February 2, 2020
9:00am-10:00am – Pat LePoidevan
10:30-11:30 – Two In The Morning
SOURCE: Sheffield Mills Website
PHOTO CREDIT: Photo by Zdeněk Macháček on Unsplash