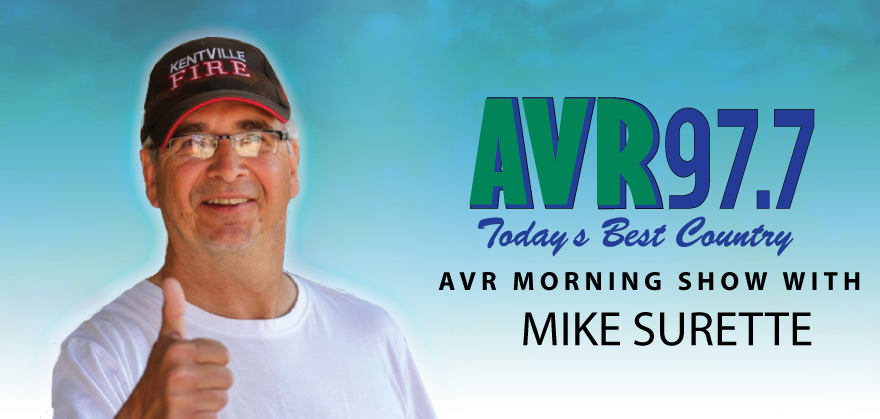 Spend your mornings with the AVR Morning Show and host Mike Surette! Mike'll keep you smiling while playing "Today's Best Country" and contests giving you the chance to win great prizes! We'll keep you up to date on the latest news, sports, weather, local school information.
Host
Mike Surette
Guilty Pleasure: I like to drink chocolate milk with a soup spoon and bowl, pretending it's chocolate soup.
Claim to Fame: I was the arena announcer at all major National and International figure skating competitions held in Canada from 1981 to 2003 where I got to meet and talk with every major star at the time. I got to surprise Elvis Stojko at his last performance as an amateur in Edmonton, Alberta with a prepared video look back at his life. (It's on youtube).
Dream Job: I already have it. I've always wanted to be your host as a morning radio announcer. When I retire (when I'm about 78), I'd like to have a hobby farm and maybe do an old time radio show on the weekend.
Coolest Moment of your Life so Far: The day I proposed to my wife, Jen just before Christmas. She was recovering at home from surgery and was feeling really down in the dumps. I went down to the jewelers to pick up the engagement ring I had on lay-away and came back and proposed to her. (She said YES)! LOL
Favourite Pastime Activity: Volunteer firefighter with Kentville Fire Department (before that I was a firefighter in Summerside, PEI for 17 years)
Celebrity (living or dead) you would like to hang out with: Johnny Cash
Pets: I don't have any, however, when we buy our hobby farm, we will get a dog.
Words to Live By: "When you see a fork in the road, take it" (Yogi Berra)