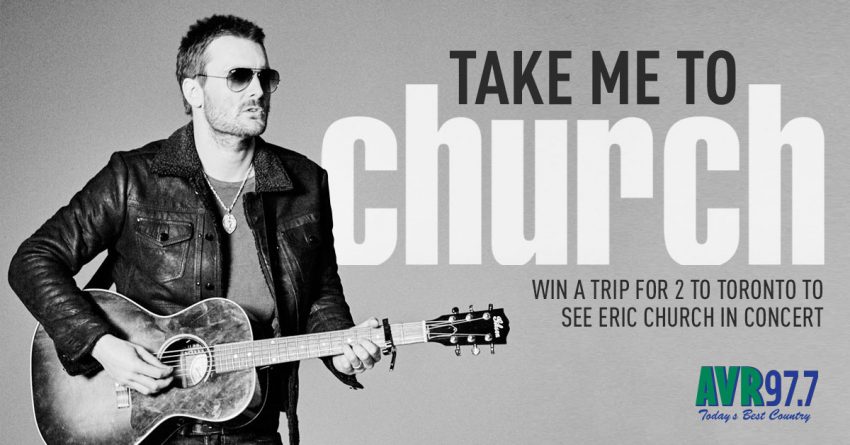 Take Me To Church with AVR!
How would you like to win an overnight getaway to Toronto to enjoy an Eric Church concert? Flight, accommodations, AND two tickets to Eric Church's March 9th, 2019 Double Down Tour show? Get set for Take Me to Church on AVR! Listen in weekday mornings with Brian, as well as afternoons with Scott for your chance to play (Monday January 28th to Friday February 22nd – excluding holiday Monday Feb 18th). When you hear the cue to call, be the correct caller through, and you'll have a chance to play Fact or Fiction. You'll be given a statement, and you determine if it's FACT or FICTION, and if you're right, you'll be entered into the grand prize draw, taking place the afternoon of Friday February 22nd! A one night stay, with hotel accommodations, airfare, and two tickets to Eric Church's March 9th concert at Scotiabank Arena in Toronto, Ontario. Make sure you read the contest rules & regulations below, so you're fully 'in the know' about how to win this fabulous prize!
Take Me To Church Rules & Regulations
1.This contest is open to listeners 19 or older, excluding employees and immediate families of MBS Radio and participating sponsors.
2. If you have won a Major contest (valued at $500 or more) in the past 30 days, you are not eligible to win this contest.
3. You may only qualify once during the duration the contest runs.
4. By entering this contest, you are giving AVR consent to publicize and/or broadcast your name, character, likeness, or voice on-air or online.
5. All prizes must be accepted as awarded, are non-transferable, non-exchangeable and have no cash value.
6. In the event a winner cannot accept the prize as is, they forfeit any and all claims to the prize which can be awarded to a new winner from the registered contestants at the discretion of AVR. Winner will selected by random draw, after 4:30pm, Friday February 22nd, 2019. The winner will have until 12pm (noon) Monday February 25, 2019 to accept the prize. Failure to do so will result in a new winner chosen from registered contestants. Winner will be announced on-air and contacted by telephone Friday afternoon February 22nd before 5pm.
7. AVR and its sponsors will not be held responsible for late, lost, illegible or destroyed entries, or any print or administrative error including technical issues of any kind in connection with this contest.
8. Enjoying this prize potentially will cost the winner money beyond "spending money". Other costs may include and are not limited to transportation to and from all airports, food and entertainment other than those provided by the Hotel Package and the concert tickets, parking, any gratuities etc. These additional costs as a result of winning a prize are the responsibility of the prize winner.
9. Proper identification is required to board the airplane. This documentation of all travelers must be provided prior to receiving prize (valid driver's license, passport, or other photo ID). Winner MUST pick up prize in person at our Kentville studios.
10. ** Prize winner will be asked to sign a declaration upon winning this contest, including information on flight, hotel accommodations, and concert tickets. **
11. **Winner will have to have a valid credit card, in the winner's name, to allow the hotel to take a damage deposit upon arrival. **
12. AVR, MBS Radio and participating sponsors will not be responsible or liable in any way for any injury, of any degree, including death, to the winner and/or family members, in regards to a contest prize. Or any aspect of the prize, not being available, due to circumstances beyond our control.
13. The decision of MBS Radio in regards to the rules, and interpretations of these rules, is final.
14. The radio station reserves the right to amend or change the above rules at any time as well as end a contest at any time. All decisions by station management with regard to the awarding of prizes, the selection of winners and the interpretation of these rules shall be final. Each contestant by virtue of entering a station contest agrees to accept the decision of the station as final.