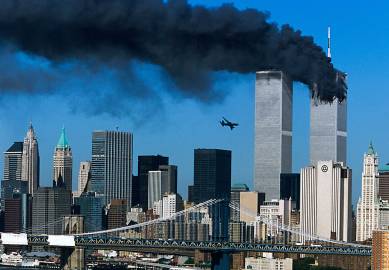 We'll Always Remember
For those of us old enough to remember the event, the images are ingrained in our brains. Today marks the 18th anniversary of 9/11. The series of 4 coordinated terrorist attacks by al-Qaeda that killed close to 3000, and injured over 6000 others.

Image from AOL.com
Today, the 9/11 Memorial & Museum will remember the lives lost with a ceremony honoring those killed at the World Trade Centre, Pentagon, and those on Flight 93; as well as the 1993 World Trade Centre bombing. The names of those who were killed will be read during the ceremony.
After all these years, the events of the day are being blamed for causing cancer and other serious illness for residents who were in the area in 2001, due to the toxic clouds from the attack.
Read more about the health issues here: http://www.channelnewsasia.com/news/world/years-later-cancer-cases-linger-over-september-11-anniversary-11888142
To quote Alan Jackson "Where were you when the world stopped turning?"
Credits: with files from CBS news
Feature image credit: times.com