Tropical Storm Chris ***UPDATE***
Chris is now tracking further out to sea than originally expected.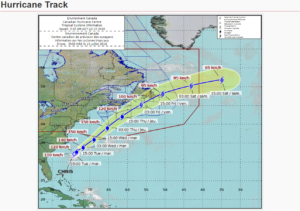 Click HERE for any updates.
If Chris remains out to sea, it is good news for Apple Farmers here in NS.
You may remember that in July 2014 Hurricane Arthur's high winds made apple trees vulnerable to Fire Blight, spreading the disease across the province. This one event changed the Apple Industry in Nova Scotia forever, the spread of Fire Blight, that can kill apple trees, is now an annual concern for farmers.
Source: Environment Canada
~Amanda