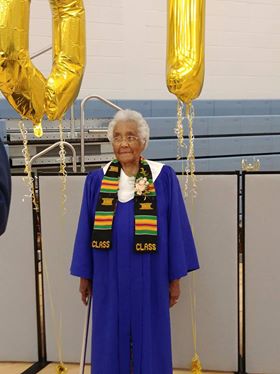 99 Year Old Hazel Johnson, Graduates From Bridgetown Regional Community School!
Hazel Johnson was presented with her High School diploma at Thursday nights Grade 12 graduation ceremony at Bridgetown Regional Community School!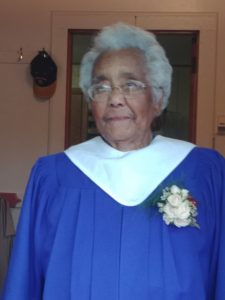 The one regret the 99 year old grandmother had was never walking across the stage!
Congratulations Hazel!  Enjoy your summer break!
Here is the write up from last nights ceremony:
BIO – HAZEL ISABELLE JOHNSON
Hazel Isabelle Johnson was born on May 15, 1919 (YES, she really is 99 years
old). in her family home in Upper Granville, NS. She was one of 10 children born
to Mary Anne and Jessie Mitchell.
Hazel is a dedicated Christian and has served her community of Inglewood in
many capacities. She was a Sunday school teacher for 35 years and served as
treasurer for Inglewood United Baptist Church, a NS Provincial Historic Site, for
over 40 years, during which time the "books were always balanced". She remains
a deacon of the church to this day.
She has achieved many goals in her life and crossed off several things on her
"bucket list", but when she was asked several years ago if she had any regrets her
answer was "I wish I was able to graduate High School". Hazel was always a very
accomplished student, and was at the top of her class in Bridgetown when she
finished grade 10 in the early 1930's. However, when she began grade 11, she was
told that the school was using new text books, so she needed to buy new ones.
Unfortunately, her father could not afford new books; he told her she would have
to leave school. So, Grade 10 would be the end of her formal learning. She was
devastated.
Hazel never stopped learning!
Eventually, she married the love of her life, Samuel Johnson, a soldier, and has
raised three sons who also all became soldiers and served a total of 135 years for
the Canadian Armed Forces.
In 1959, her and Sam moved with their sons to Germany, which as you can
imagine was quite a shock from living in Nova Scotia and growing your own
vegetables. She learned to speak German and learned some of the languages of the
other countries she traveled to so, just she could be courteous.
Her life with Sam brought them back to Canada in 1962, where they eventually
retired to Inglewood where she lives today.
She has 8 grand children (one is a graduate of BRHS), 8 great grand children, and
now she is a great-great grandmother of a 7month old boy.
Some of her friends call her "Ginger Snap" as she is one of the most skilled pastry
chefs you will ever meet!
She learned to sew, and eventually began to teach sewing classes. Eventually she
brought home"every ribbon in the Annapolis Valley Exhibition".
She has traveled extensively, participated in the Seniors Games, and represented
Nova Scotia at the Canadian Games where she competed in the Scrabble
tournaments.
Hazel never stops learning!
Every day you will find her walking to the mailbox, so she can do the Crossword
and Sudokopuzzles in the Chronicle Herald, these are her daily brain exercises.
She continues to challenge herself to learn everyday. She studies the Bible daily
and is an avid consumer of the news.
She has lived a full life, she is loved by all her meet her. Soyou see, she did not
let her life circumstances stop her education, she worked around it.
Source: Brandy Johnson (granddaughter)
~Amanda